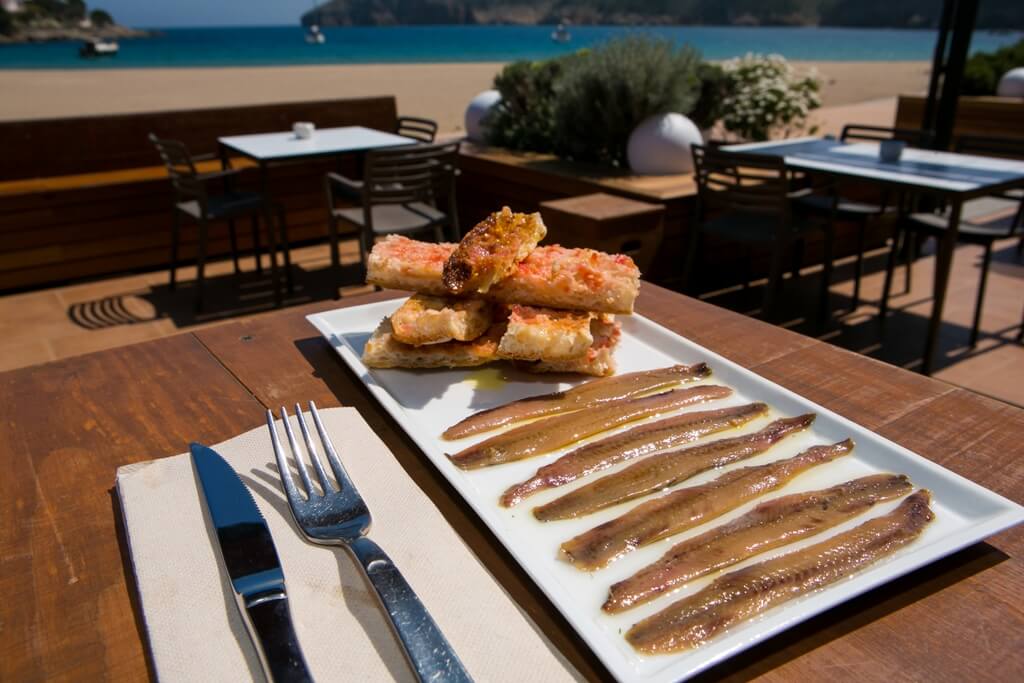 L'Escala Anchovies are one of the star ingredients in the cuisine of the Costa Brava, which have also gone on to conquer the hearts of gourmets the world over. The anchovy industry has a long history in this town and, in fact, it was already mentioned by author Francisco Zamora in his "Diario de los viajes hechos por Cataluña" (1757-1812).
But why are anchovies from L'Escala so highly valued? The answer lies in their intense aroma and enduring flavor, which are the result of an eight-month maturing process -they are produced with brine or oil- after which the anchovies are stored in glass jars.
A stellar entree
Is there a better way to open a good meal by the seaside than with a few slices of tomato bread with anchovies in our restaurant, Can Miquel?. This combination has become one of the must-tries in our menu.
Anchovies, however, are also an essential feature of other dishes in traditional Catalan cuisine such as escalivada (smoky grilled vegetables), cod brandade or in salads, such as Xató salad.
Don't miss it!
The Anchovy Festival, which is will be held in October for the 28th time, is the finest display of the importance of this seafood product in the history of this town. The festival includes an opening speech by a person connected with the anchovy trade, the award of the Golden Anchovy award to a person or entity that has promoted L'Escala Anchovies throughout the year, a popular Habaneras concert on the beach and a tasting session of none other than the famous L'Escala Anchovies.
If reading this article has made you crave authentic anchovies from L'Escala, we are waiting for you at our restaurant, Can Miquel.