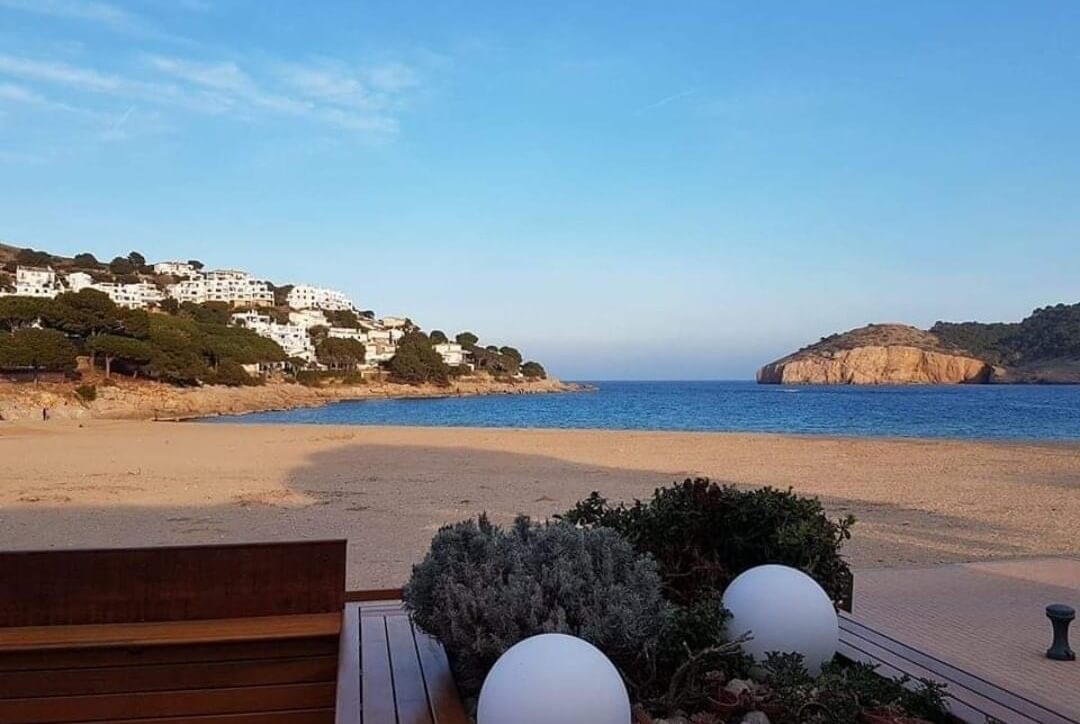 L'Escala is not only a great destination for the summer holidays but also with the arrival of good temperatures it gives us good reasons for making a getaway and strolling beside the sea. Talking of the sea you have to know that you will find here more than seven kilometres of coastline from extensive sandy beaches with all kinds of services available, to small pebble beaches surrounded by pine trees and cliffs.
Some act as canals for swimming out to sea and others offer a wide variety of sports or are of special interest for scuba diving, not to mention the unique characteristics such as for example being able to swim and sunbathe next to more than two thousand years of history at the Moll Grec (Greek wharf).There is a whole world of beaches to discover before enjoying a good meal of sea cuisine. Which ones should you not miss?
Del Riuet
This is a beach of fine sand which due to its characteristics and situation is ideal for the practice of water sports, especially those which need the wind. It is the northernmost of the beaches in the municipality of l'Escala.
Moll Grec
To swim beside the Hellenistic Wharf of the port of the Ancient Greek and Roman cities of Empúries is a luxury that this beach can offer us.
Les Muscleres
A beach of fine sand, located in front of the ruins of Empúries.
Portitxol
It is accessed on foot via the maritime promenade of Empúries, almost next to the entrance to the Archaeological Museum of Catalunya-Empúries.
La Creu
There still remain some picturesque and old fishermen's houses. It is situated between the centre of l'Escala and the first beaches on the Empúries coastline.
Riells
This is an urban beach of fine sand and shallow waters, ideal for children. Situated in the very heart of the best tourist area of Riells, it has a varied offer of services, especially water sports.
Bol Roig
This is a natural cove, made up of large pebbles. It can be found in the lovely natural spot of Les Planasses.
La Platja
This is also known as ¨The Beach of the Boats¨ ( Platja de les Barques), and can be found in the very heart of the urban centre of l'Escala.
Cala Montgó
We could not finish this journey through the beaches and coves of l'Escala without mentioning our dear Cala Montgó, with its fine sand and sheltered from the tramuntana wind. At its foot you will find Restaurant Can Miquel, with a menu elaborated with fresh products from l'Empordà, including a wide variety of rice, fish and meat dishes which will delight the diners.