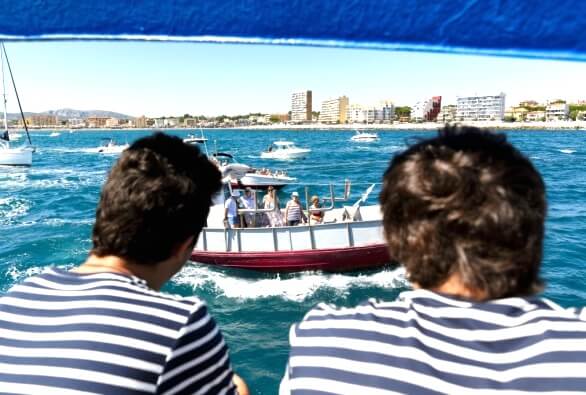 L'Escala is a lively town year-round, as can be seen from the nearly 600 activities that are scheduled yearly, some of which have a long tradition. Among them, one of the most traditional is the Festivity of Mount Carmel, which is held on July 16 and includes events such as the seaborne procession with the image of Our Lady of Mount Carmel.
Festivity Program
The Festivity of Our Lady of Mount Carmel opens at ten in the morning with the presentation of the salt carpet held before the Church. At this point, the seaborne procession with Our Lady of Mount Carmel begins from the La Clota harbor to the beach.
After eleven AM you will be able to witness the rowboat of the sports and recreational center as it reaches the former La Platja harbor to welcome Our Lady of Mount Carmel. It will be followed, fifteen minutes later, by the arrival of the Mare Nostrum cruise ship, carrying Our Lady of Mount Carmel and the sailors.
From this point onwards, the procession will leave the beach with musical accompaniment towards the Church in order to celebrate the Eucharist. After Mass, three sardana dances will be performed by the Cobla Costa Brava, followed by a fellowship meal.
The day will be topped off at ten in the evening with a dance on the beach and a mobile disco.
Other festivities of interest
Apart from the Festivity of Our Lady of Mount Carmel, L'Escala also hosts a number of interesting events during the summer. One of them is the town's annual festivities, which are held between late August and early September and feature a number of popular events, not to mention the Habanera sing-off on the beach.
Moreover, the Anchovy Festival, including the awarding of the Golden Anchovy to a person or entity who has promoted L'Escala anchovies throughout the year, will be held on October 7.