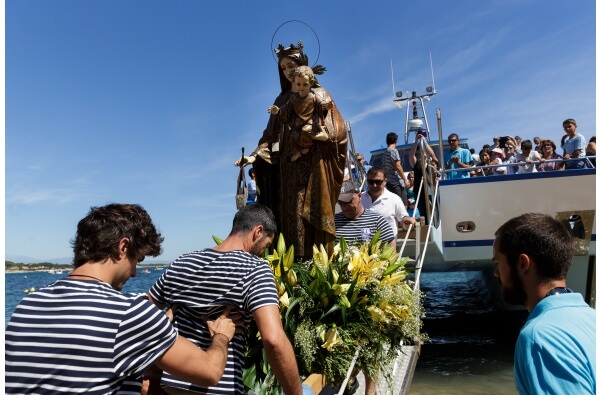 L'Escala is a perfect place to enjoy your family holidays. Do not make any plans and take not of the agenda for this summer at L'Escala!
The fish market, live: Come on over and visit the fish auction at the L'Escala fish market for a chance to see the fishing ships unload their hauls and watch the auction live. Finally, you will have the chance to enjoy an authentic breakfast. Visits are held on Thursdays and Fridays in July and August at the Fish INterpretation Center (Centre d'Interpretació del Peix, MARAM).
Foam party: L'Escala holds the most refreshing foam parties for this summer. These parties are an excellent opportunity to have a good time, sing, dance and fight the heat, and it has become a local favorite among families. These parties, which are well-loved by children and adults alike, will be held on July 8 and 15 at 7 PM at the plaça de l'Univers.
67th festivity of Our Lady of Mount Carmel:
A classic on the summer agenda at L'Escala. It is held on July 16 and it opens with the presentation of the salt carpets held in front of the church.
What follows is a seaborne procession with the image of Our Lady of Mount Carmel from the harbor to the beach. From that point onwards the procession continues on land all the way to the Church, with the participation of all the members of the Homage to Old Age (over-seventies).
Sardana dances, a fellowship meal and the closing ball complete the program for this day.
Guided tour through the Anchovies and Salt Museum: As you already know, anchovies are one of the culinary emblems of L'Escala, and if you wish to learn more about them you may visit the Anchovies and Salt Museum. As an introduction you will be shown an audiovisual presentation that will provide you with an in-depth knowledge of the history and process of salted anchovies, a product that has earned this village in the Empordà its worldwide fame.
Do you need any more reasons to enjoy this summer agenda at L'Escala? Do not forget that you can top off your day at Cala Montgó with a meal of Catalan seafood cuisine at the Can Miquel restaurant. See you there!