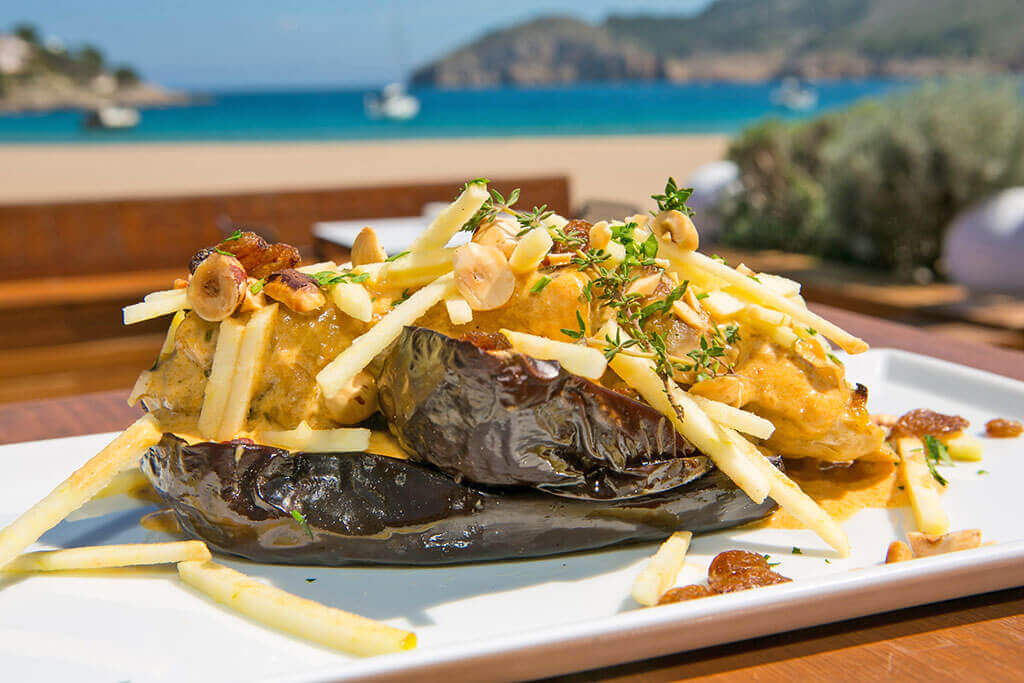 Spring on the Costa Brava is a very varied season, the days are getting longer and, if the sky is clear, very pleasant and warm temperatures are reached at noon. However, afternoons and evenings are cool and sometimes even cold.
In addition, spring is also a rainy season, as the Spanish proverb says: " En abril, agua mil" (April showers). Due to these changes of temperature and meteorology, in this season we jump between the typical and hot spoon dishes and the most summery recipes.
Whether we fancy hot dishes or fresh and nutritious salads, the Costa Brava continues to offer us a large number of dishes and recipes in the spring that will satisfy every palate.
From our restaurant Can Miquel in l'Escala we show you below the best typical products and delicious dishes to enjoy in this spring
The typical products of spring
Every season has its typical products ideal to accompany the best recipes. In spring, vegetables, fruits and grains abound:
Vegetables

. At the beginning of this season there are still many varieties of cabbages, artichokes, chard, spinach and leeks that we will not find once the good weather arrives. For salads the star product is lettuce, fennel and radish. We can also enjoy a product that we usually eat canned, asparagus.

Fruits

. Winter citrus such as oranges and tangerines begin to disappear to give way to cherries, apricots, medlars and cranberries. At the end of spring, we can also find typical products of summer, such as melon or watermelon, although we are not impatient and leave these for later.

Grains

. In spring, legumes represent a renewal in all dishes and recipes. A very rich way of eating legumes is incorporating them into cold salads, for which the chickpeas and lentils are ideal. You can also prepare original lentil croquettes, cold pea creams or add them to your stew for the coldest and rainiest nights. The most seen legumes in spring are the peas and beans, which can even be consumed raw when they are tender.
Typical dishes of spring on the Costa Brava
Calçots

. Undoubtedly, this is an essential dish in this season, roasted over the coals and dipped in the delicious romesco sauce, this type of local onion is a unique dish and much appreciated in Catalonia. In spring it is a tradition to meet with family and friends to organize the famous "calçotadas", without a doubt a dish that you cannot miss if you visit the Costa Brava at this time.

Xatonada

. The xató or xatonada is a typical dish of the Catalan coast. It is a salad in which products such as cod and an almond-based sauce are used. In addition, a good xatonada is usually complemented with all kinds of tortillas: potato, spinach, zucchini, eggplant … the possibilities are unimaginable!

Rice with clams and mussels

. Rice with mussels is a very simple and tasty recipe. The mussel, one of the main ingredients of this recipe, is very rich in proteins of high nutritional value and also contains very few calories. This dish is perfect for the typical sunny noon of spring, where after spending the morning enjoying the sea of the Costa Brava

swimming or practicing water sports

, you want to taste a delicious rice dish.
From Can Miquel, our restaurant in Cala Montgó de L'Escala, we hope you enjoy this spring with your family and above all, the best recipes! The dishes on our menu are ideal for this season, such as our croaker with peas, artichokes and mushrooms or cod with tomato, basil and black olives.