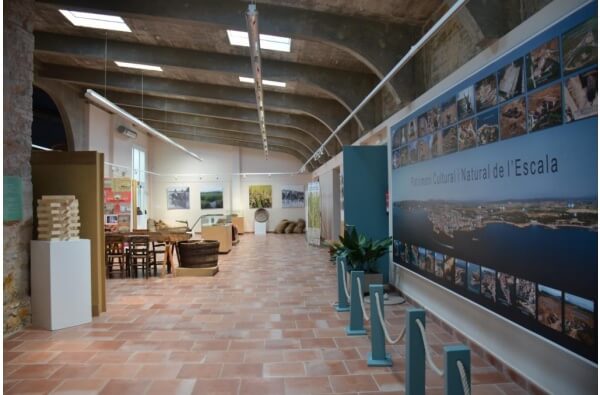 Now that the beach season finally seems to be coming to a close, we can take a while to enjoy the cultural spaces and museums of l'Escala. What better prelude could there be to a meal at the Can Miquel restaurant!
Indeed, l'Escala is blessed with a great amount of cultural spaces that will allow you to gain a deeper understanding of local history and traditions.
1- Salt and Anchovy Museum (MASLE): Located in the former slaughterhouse (built in 1913), the Salt and Anchovy Museum allows you to delve into a unique period, heritage and knowledge. The permanent exhibition displays the history of local fisheries from the 16th century to this day and, especially, of anchovy salting, an industry that has been at the heart of the local economy for centuries and has brought the town worldwide acclaim.
The main museum in l'Escala is also the starting point for cultural field trips, and the town's fountain and public wash-house, built in 1796, are located next to the main building.
Winter opening hours: Open on Tuesdays through Saturdays from 10:00 AM to 1:00 PM from September 1 and June 30. Closes on Sundays and Mondays (non public holidays), December 25 and 26 and January 1 and 6.
2- Museum of Archaeology of Catalonia (MAC): Whereas the Anchovy Museum is famous, the ruins of Empúries are even more so. Indeed, Empúries was the gateway through which Greek and Roman cultures entered the Iberian Peninsula. This archaeological dig features the remains of a Greek city -the colonial enclave of Emporion- and of a Roman city -ancient Emporiae, which was founded in the early 1st century BC on the structures of a Roman military camp that had been established during the previous century.
Opening hours: Open on Mondays through Sundays from 10:00 AM to 6:00 PM from October 1 to November 15, and on Tuesdays through Sundays from 10:00 AM to 5:00 PM from November 16 to February 15.
3- Motorcycle Museum: Another interesting museum in l'Escala is the Vicenç Folgado collection. This collection of curious and assorted items was gathered over a lifetime of intense sporting activity the world over.
And finally, some seafood cuisine
After spending the day touring l'Escala, how about bringing it to a close at the  Can Miquel restaurant to discover its seafood cuisine while you take in the sights of Cala Montgó? Regardless of whether you prefer rice dishes, fresh fish or fine entrees with l'Escala anchovies and tomato bread, you are bound to find the dish for you on the menu of this restaurant in l'Escala. We are waiting for you at Can Miquel!