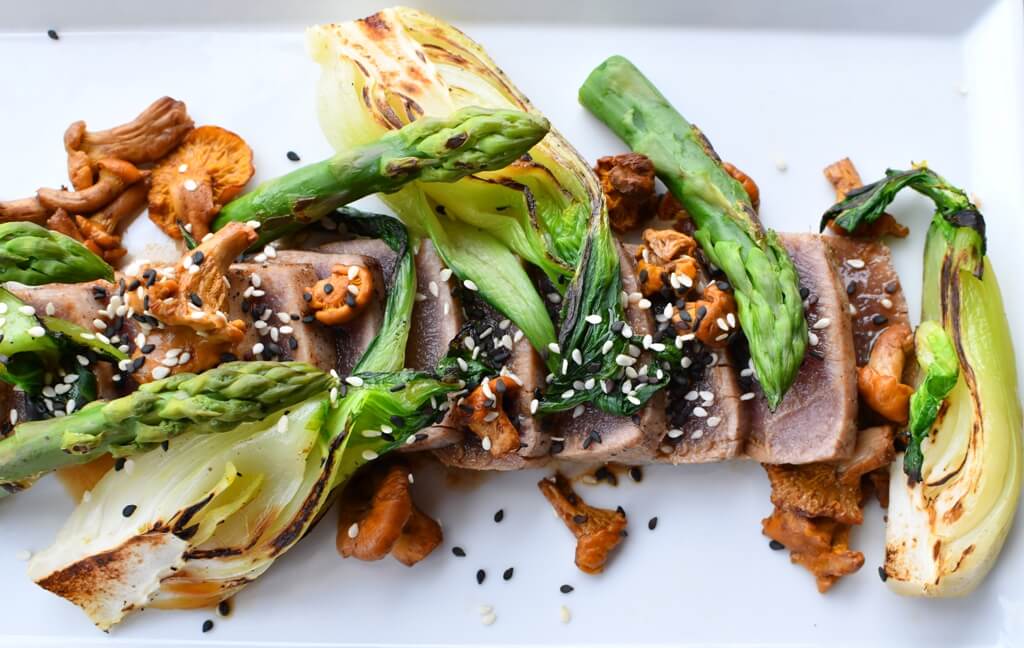 Catalan cuisine is a rich tradition, and autumn dishes, which are ideal to share with good company and beautiful views of the Mediterranean in Can Miquel, are a fine example of this.
Autumn is a good time to take advantage of the fact that the days are still quite long to share some fine Catalan dishes with friends. Is there any better way to start than with rock mussels, braised sardines and some l'Escala anchovies with tomato bread as appetizers?
Greens and mushrooms in the spotlight
As the season changes, so do the vegetables that star in autumn dishes. Pumpkins take the stage, for instance, and hot and lukewarm dishes such as soups and purees start to regain their appeal.
Nevertheless, if there is a star product in autumn cuisine, it is surely mushrooms. These mushrooms feature profusely in the menus of Catalan cuisine restaurants and, why not, in those of seafood restaurants such as Can Miquel as well. Dishes such as tuna with chanterelles, green asparagus, soy and pak choi, which you will find on our menu, aptly showcase the versatility of mushrooms.
Coal-grilled vegetables, which are ideal to start off any meal and which are served with a tasty romesco sauce, are also a surefire option.
Rice dishes, an absolute must
Rice dishes are a star dish to share year-round, and they are therefore also a great idea for the fall season. Dry rice with grilled vegetables, a nice pot of grilled country-style rice or the tasty black rice we prepare at Can Miquel are fine options for autumn.
Panellets: a sweet touch
The arrival of autumn means that the castanyada, the chestnut-roasting festival of All Saints' Day, is near, and so are their sweet protagonists, panellets, little marzipan balls that are traditionally served with sweet Muscat wine. These are undoubtedly the best way to top off an autumn meal!