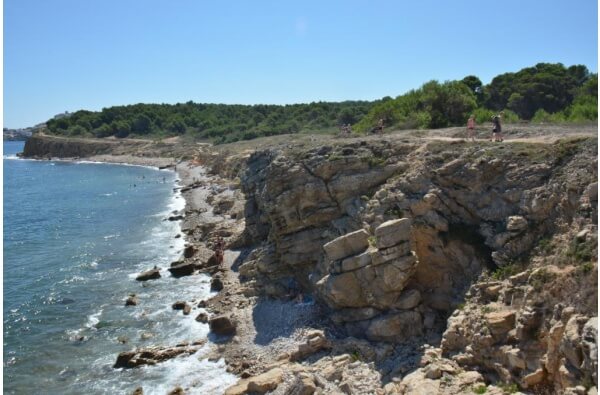 Are you looking for a good  plan to discover the natural environment at L'Escala with the family during the summer holidays? Be sure not to miss the trail to Les Planasses, one of the natural crown jewels of L'Escala, if you visit the Costa Brava during the coming months.
So what is it that makes this place so special?  Simply put, it is a spectacular natural scenery that belongs to the Montgrí, Islas Medes and Baix Ter Natural Park and which is bound to surprise children and adults alike.
You can visit the area by following a seaside path that runs between the harbor of La Clota and Cala Montgó, and which belongs to the GR92 hiking trail. Throughout this segment you can still see the bunkers that were built to control the bay of Roses.
A varied landscape
Several different environments coincide in Les Planasses, ranging from dunes to pine groves, not to mention cliffs, combined with fascinating species of vegetation and landscapes that are sure to please. Nevertheless, keep in mind that this trail is not suitable for babies or toddlers, who would have to be taken along in a baby carrier.
Pebble beaches
There are also several coves with pebble beaches where you can take a dip or explore their fascinating seabed with diving or snorkeling equipment. Further east you will find the tower at Punta Montgó, which was once used to keep watch against pirates.
We suggest that you head down towards the town center and the Cala Montgó beach for some breathtaking views of the bay of Roses.
A rich natural heritage
Over 270 species have been spotted in this area, including endemic and/or protected plant species such as  blue brooms, sea lilies, milk thistles and lady's cushions. 
A fine meal to top it all off
Once you have reached Cala Montgó, could you think of anything better than to enjoy a break with a fine meal at the terrace of our restaurant, Can Miquel? Cuisine with Catalan roots and Mediterranean traditions against the backdrop of a beautiful view of the Mediterranean sea. Bon appétit!