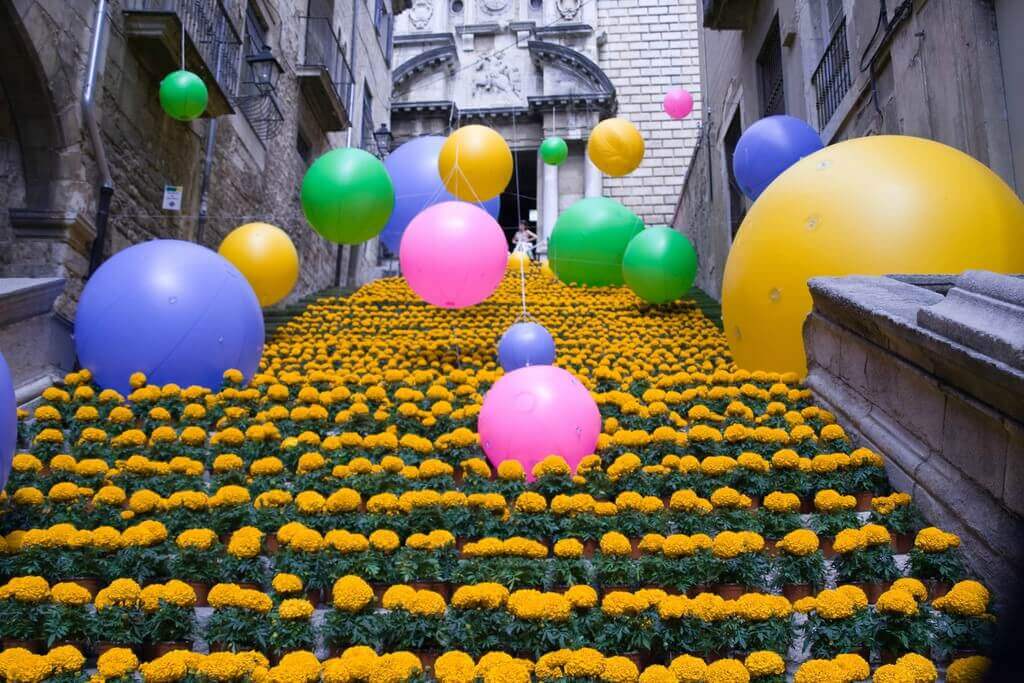 As its name suggests, this festival takes place in Girona, from May 12 to 20, in which the undisputed protagonists are flowers. This well-known festival goes back many years, concretely, 68 years.
Temps de flors 2018 in Girona
The first edition of this flower festival was called "I Provincial Exhibition of Flowers Contest" and took place in 1954. This edition was a contest of plants and bouquets that lasted a weekend in which both individuals participated as professionals of the sector.
It was born with the pretext of creating leisure spaces and neighborhood meetings in the city, its reception was so great that it became an every-year traditional celebration. Gradually it has been growing until it becomes a mandatory visit for both residents and tourists from all over the world who come year after year to Girona.
In this particular festival, spaces open to the audience decorated with flowers. A decoration that mixes with the plastic and visual arts, giving rise to a true spectacle in which the undisputed protagonist is nature.
From our restaurant in La Escala, we encourage you to come to this part of the Costa Brava from May 12 to 20 and enjoy this flower show suitable for all audiences.
Going to "Temps de flors" is the perfect excuse to spend a wonderful day near the sea and taste some of its most characteristic dishes. Whether it's a rice cauldron with lobster, a black rice or a dry charcoal rice, we invite you to delight yourself with the delights offered by this area of the Mediterranean Sea.
We will wait for you!