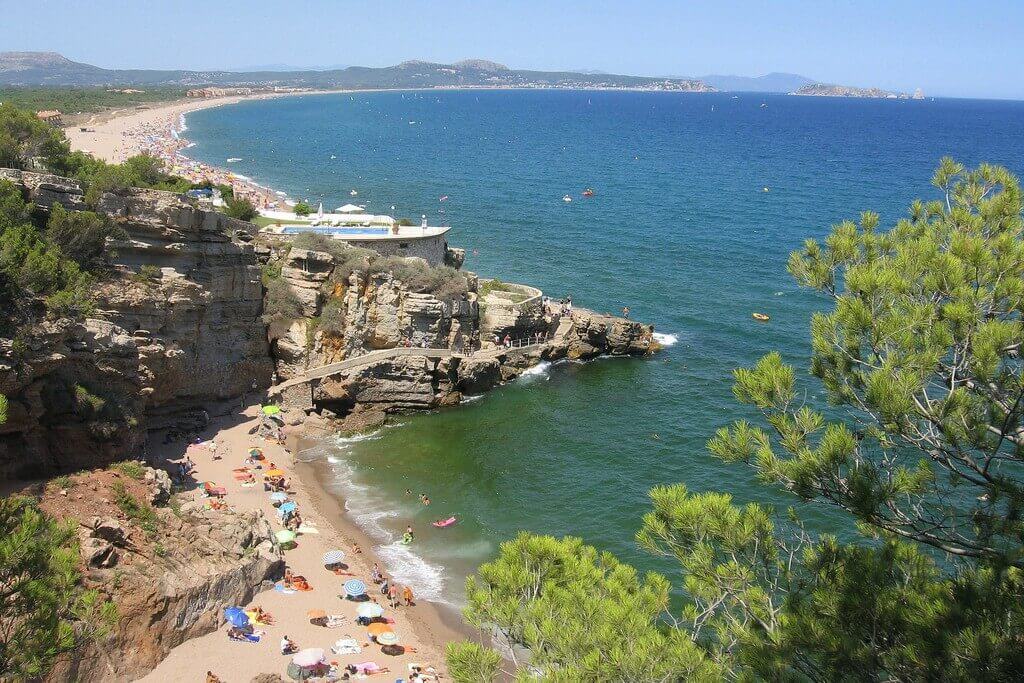 There is little time left for summer, and with it, the desire to leave home to explore all those beautiful corners that end up forming unforgettable memories of our vacations and trips.
Knowing all this, there is nothing better than enjoying the heat of summer by spending the day on some of the best beaches and coves that make up the Costa Brava. From our restaurant Can Miquel in L'Escala, we have prepared a selection of the best coves and beaches of our coastline that you certainly will not want to miss on your next trip to the Costa Brava.
5 coves and beaches to visit this summer on the Costa Brava
Cala Jugadora (Cadaqués)
This cove is a corner of corners, in which its geology has been shaped year after year by the wind and waves that invite all visitors to take a bath. This cove is undoubtedly an idyllic perfect Empordà paradise to rest and take a refreshing bath after eating.
In addition, it is very different from the other coves located in the Cap de Creus since it is sheltered from the wind, has three banks and offers a wild seabed, full of colors and life. It has some unevenness that in chromatic terms go from tropical blue to black. A harmonious place, that combines loneliness with savagery and that with will make any adventurer fall in love with it while exploring it.
Cala Montgó (L'Escala)
Located on the slope of the Montgrí massif, between the municipality of L'Escala and Torroella de Montgrí is the Cala Montgó.
This beautiful cove is in such a privileged place that even in the Roman era it was a famous landing place. Protected from the Tramuntana and is characterized by its fine sand.
This cove is ideal to go with children and is very accessible, as it has a large number of services such as showers and public toilets, rental of hammocks, kiosk, and parking lot. It is in this splendid cove where our restaurant Can Miquel is located, without a doubt one more reason of weight more so that you visit it and enjoy all that it has to offer you
Playa del Castell (Palamós)
This virgin beach of the Costa Brava is located in the center of Palamós and Calella. This large cove is surrounded by a lush pine forest that makes it a heavenly place. On the left side of the cove, in the direction of the sea, we find the original Iberian settlement of the 6th century BC.
It is a perfect beach to go with children, since it is easy to reach by car and there is a parking lot nearby. In this beach you will enjoy the sun with its fine sand and you will be able to cool off with your friends and family.
Cala Tavallera (El Port de la Selva)
The Cala Tavallera will leave breathless every explorer who approaches it, the environment of Cabo de Creus and the steep landscape makes it a unique cove with fantastic views.
This cove is undoubtedly a paradisiacal space since it is very isolated from civilization, so it is highly recommended to spend all day and enjoy its nature and crystal clear waters.
Playa de Sant Pere (Bahía de Roses)
Another wide beach of more than 6 km in length, uniform but in which we find different areas in which you can also do different water activities, such as Windsurf or Kitesurf. This beach goes from San Martí de Ampurias to Empuriabrava and the eastern most part of this forms part of the Natural Park of the Aiguamolls del Empordà.
It is a very long beach so you can find areas where you will not find almost anyone, so you can relax with the sound of the waves. In addition, it is frequented by families (due to the proximity of the campsites that we find at the foot of the beach) and by enthusiasts of the world of water sports.
This summer, enjoy the best coves and beaches that the Costa Brava offers you. And do not forget to visit us at Can Miquel! Our restaurant of Mediterranean cuisine in Cala Montgó.
We are waiting with open arms!