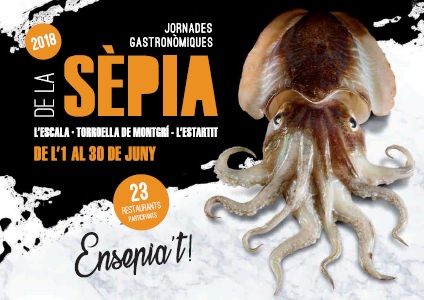 The 2018 Cuttlefish Culinary Sessions will be held until June 30, and during these sessions, the stoves of the restaurants in L'Escala and L'Estartit will join forces to create a new distinctive, high-quality and locally produced touristic product.
This product, which highlights the joint efforts and values involved in working in the protected Montgrí-Islas Medes Natural Park, also derives added value from traditional and sustainable fisheries.
Cuttlefish as the key ingredient
The relationship between local cuisine and cuttlefish stretches far back in time. Indeed, cuttlefish is a culinary product that is fished, cooked and prepared in the waters of a natural landscape such as the Costa Brava, and it is a display of the union of different economic sectors in the towns of L'Escala and L'Estartit.
The Cuttlefish Culinary Sessions are yet another incentive for the so-called "Cuttlefish Project", a project intended to foster the reproduction of cuttlefish in order to recover population levels. Moreover, it is also intended to help traditional fishermen recover traditional and sustainable fisheries.
Can Miquel's proposal
A grand total of 23 restaurants in L'Escala, Torroella de Montgrí and L'Estartit participate in the Cuttlefish Culinary Sessions, and among them is Can Miquel, with a menu that features a dish of L'Escala cuttlefish with onions, rice, eggs and basil as its main course.
For starters, Can Miquel offers entrees based on cod fritters and eggplant, mascarpone, parmesan, tomato and anchovy caviar, and, to top it all off, desserts with honey and cottage cheese.
In what regards the cellar, the Can Miquel menu is paired with a white Oriol and a red Broc. Bon appétit!
Other culinary dates
The Cuttlefish Culinary Sessions are not the only event held in L'Escala to promote its local cuisine; other classics include the Anchovy Festival and the Anchovy Tapas Tail, which are held in early autumn.