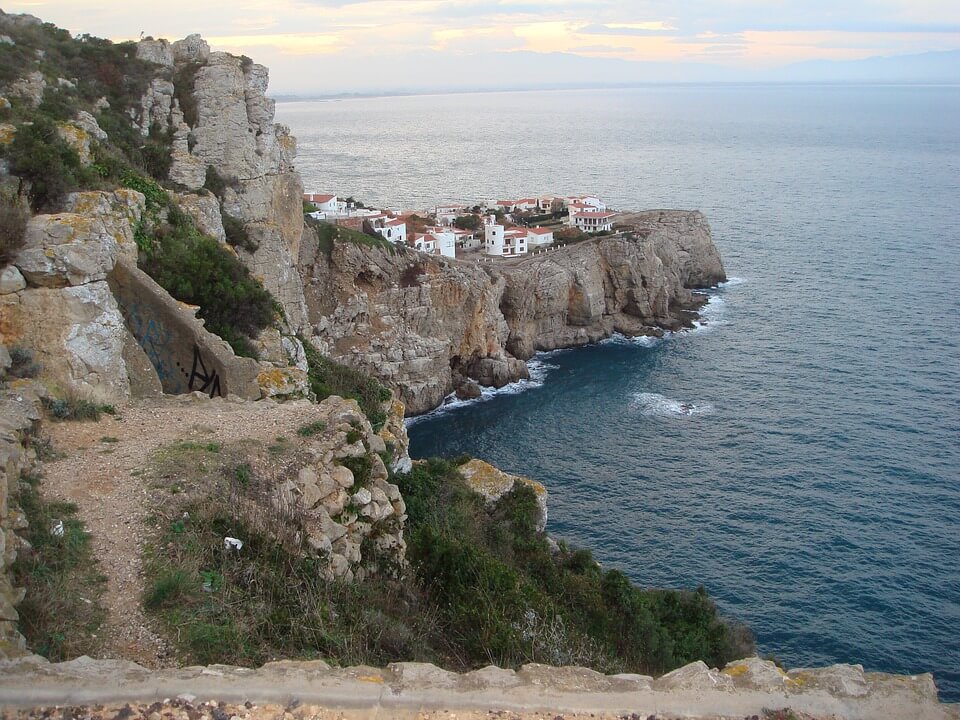 Autumn is the best time to make a route by car through the Costa Brava and discover all the wonders this Catalan coast has to offer.
Among the road of the Costa Brava, you will find beautiful landscapes, beaches, wonderful villages and exquisite gastronomy.
We propose a route to make by car or accompanied by your friends, family or couple to enjoy an exciting tour of one of the most beautiful coast of the Mediterranean.
Get to know the Costa Brava
The first thing is to define how long you want this trip to last, a weekend or a few more days.
The Costa Brava belongs to the Province of Girona, a coastal strip of 214 km, which includes the counties of Alto Ampurdán, Bajo Ampurdán and La Selva. The tour is quite extensive, but we will help you to choose with a route we have created, indicating the best places to visit by car on a weekend getaway.
The Costa Brava begins in Blanes and ends at the border with France, specifically in Portbou. Therefore, we propose to start the route from three different starting points:
Blanes, Lloret de Mar and Tossa de Mar
These three villages are very close to each other, so with good planning it will not take you long to get to know them, if it is a quick visit. Between Blanes and Lloret de Mar there are only 5.5 km away that will only take about 11 minutes to drive.
Between Lloret de Mar and Tossa de Mar there are 12, 1 km away equivalent to 19 minutes by car. The biggest distance is between Blanes and Tossa de Mar, which is 17, 5 km; 30 minutes by car.
Each one has its special charm. Blanes has the Jardí Botànic Marimurtra, Castillo de San Juan and in terms of beaches, we recommend you visit the Cala de Sant Francesc and the S'Abanell beach.
In Lloret de Mar you can enjoy beautiful natural areas such as the Fenals Beach, the Chapel of Santa Cristina, the Cala Sa Boadella Beach or the Lloret Beach.
While in Tossa de Mar you have monuments to visit as outdoor spaces; Villa Vela, the Castle of Tossa de Mar, the Chapel of the Mare of Deu of the Socors, Cala Giverola, Cala Pola and Cala Futadera.
Platja d' Aro, Palamós and Palafrugell
Further, on the Costa Brava, just halfway down this route we have prepared, you will find Platja d'Aro, Palamós and Palafrugell.
In Platja d'Aro there are water and adventure parks such as Everest Costa Brava, Costa Brava Parc Aventura, Pp's Park and Aquadiver. Another popular activity in this area is scuba diving and snorkeling, suitable for those who want to know the marine nature of the Platja d'Aro.
Palamós, is an ideal place to relax by the sea. This coastal town boasts dazzling beaches such as Cala Estreta, Playa El Castell, Camí de Ronda and Playa de la Fosca. We must emphasize visiting the Port of Palamós to watch the sunset, as it is the best way to end a day in this beautiful town.
Palafrugell it follows the same pattern of tranquility and relaxation you will find in Palamós. From here, we have to highlight the beaches of Calella located in Calella de Palafruguell, the botanical garden of Cap Roig, the lighthouse of Sant Sebastià and the beach of Tamariu.
Finishing the road trip
Begur, located in the region of Bajo Ampurdán, is an ideal place to navigate through the crystalline waters of its beaches. It is one of the favorite places to spend the summer of Barcelona citizens. Without a doubt, its most famous beaches are Aiguafreda, Sa Tuna, Platja del Racó, Illa Roja and Sa Riera.
About 5 km drive from Begur (Bagur in Catalan), you will find Pals, a beautiful medieval town, and this being its biggest tourist attraction you should not miss visiting its historic center, which includes the Towers of the Hours, the Church of Sant Pere and the House-Museum of Culture Ca La Pruna.
Close to our restaurant of Mediterranean cuisine in L'Escala is the town of l'Estartit, where its natural landscapes and nautical activities are the favorite pastime of both locals and visitors.
Taking a trip to Illes Medes, diving, snorkeling and boat trips through its coves is just an opening for what awaits you in l'Estartit. Once finished this route by the Costa Brava you will arrive at the l'Escala, the last but not least important stop of this route by car.
In l'Escala you will find places with great cultural value such as the Fishermen Guild, the Marine Cemetery, the Museum of Archeology of Catalonia and all its lovely beaches and natural coves.
We invite you to discover the Costa Brava in its purest Mediterranean essence. If you need visual information about this road trip, Pay attention at this map:
We are waiting for you in our restaurant Can Miquel!